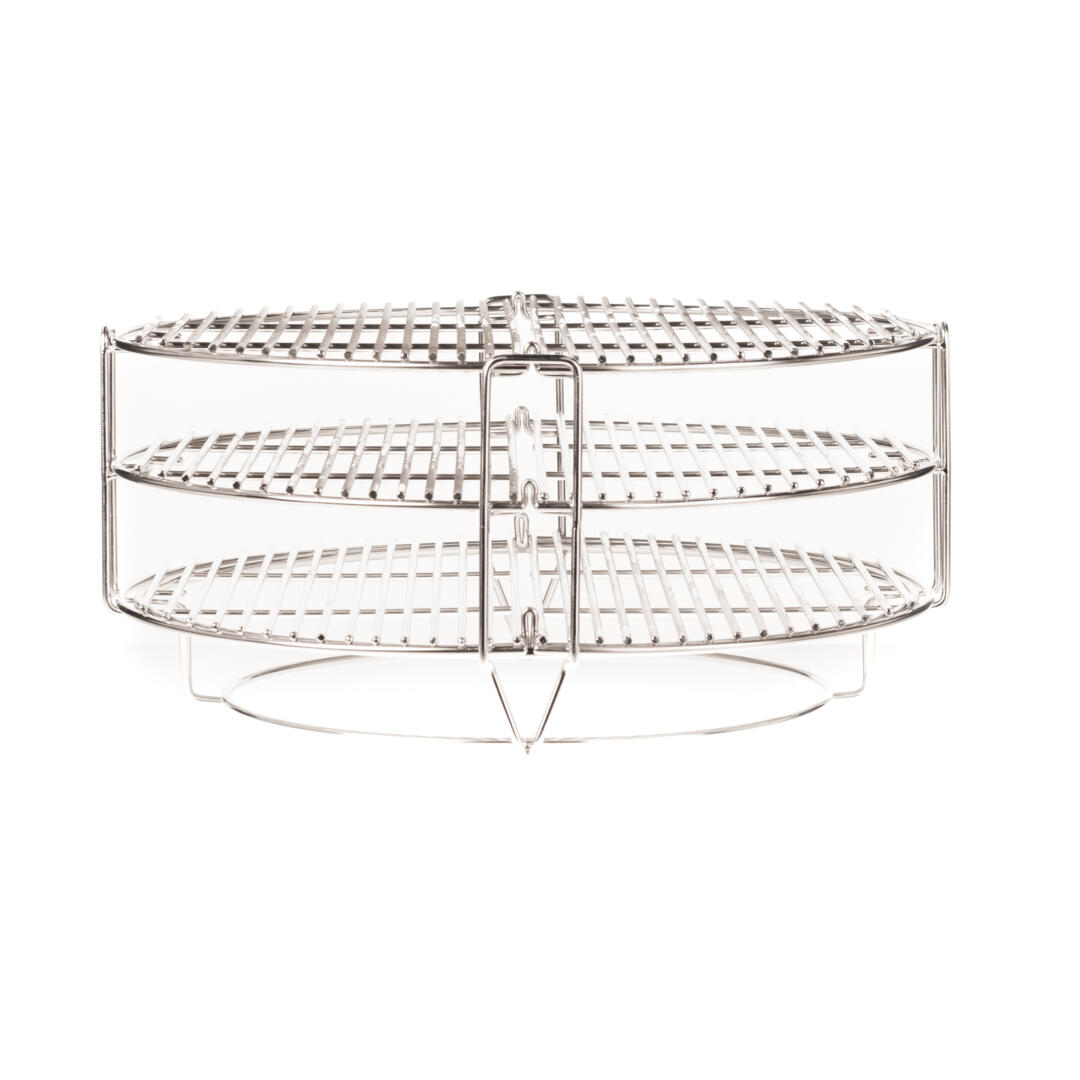 Free delivery in Belgium, the Netherlands, Luxembourg, France, Germany and Denmark!
The Kamado Joe Classic III Stand-Alone is the latest and greatest model in the range. The ultimate BBQ! This Stand-Alone version is used to build into your outdoor kitchen or BBQ table!
Get that amazing wood-fire flavour when grilling
Easy to keep stable for long low & slow cooking sessions
Bake delicious oven dishes, breads and pizzas
Cooking surface of Ø 46cm, adjustable to three heights
Uses very little charcoal
Unparalleled capabilities and ease of use
The world's most innovative kamado
Lifetime Warranty
Wat mag je verwachten bij ons ?
Persoonlijk advies

Gratis

verzending vanaf

€

95

14 dagen geld-terug-garantie
The best Kamado in the world
If you compare the Kamado Joe Classic III Stand-Alone with other ceramic BBQs, you will quickly see that a Kamado Joe is the best BBQ in the world.
That may sound a bit overconfident, but we invite you to put it to the test yourself!
In terms of execution and innovations, it is unparalleled.
Latest innovations for the Kamado Joe Classic III
SlõRoller heat shield for improved heat distribution when slow cooking
Three-level Flexible Cooking Rack 3x Ø 46cm cooking surface
Extra-strong Charcoal Basket made of stainless steel
Includes all the innovations of the previous models
SlōRoller
Kamado Joe's patented SloRoller is the first heat shield that is not flat like with all other ceramic kamados. The revolutionary SlōRoller leverages patented, Harvard science that transforms your Kamado Joe into one of the world's most optimal smokers. By distributing smoke and heat in rolling, recirculating waves throughout the smoke chamber, the SlōRoller surrounds food in clouds of delicious smoke while evenly distributing heat, resulting in enhanced flavor and significantly reduced hot spots.
Even heat distribution = more convenience
The swirling clouds of smoke created by the SlōRoller result in 80% fewer hot spots. Because the heat distribution is optimal, you do not have to move the meat during cooking. This ensures a juicier result and less worrying during low & slow sessions. Such an even temperature distribution is unique in the world of slow cooking and can only be found @Kamado Joe!
New airflow for richer taste
The swirling air currents created by the SlōRoller give a deliciously rich smokey flavour. Thanks to the SloRoller, your meat gets a perfect crust with beautiful red smoke ring typical of low & slow cooking.
Existing innovations
Divide & Conquer System allows you to use different cooking surfaces and combine direct & indirect grilling without the need for midsession conversion
Slide-Out Ash Drawer Drawer for easy removal of ashes
Kontrol Tower Top Vent maintains precise airflow made of cast aluminium
Air Lift Hinge scharnier significantly reduces dome weight
Stainless Steel Latch ensures airtight seal
AMP Firebox the patented unbreakable fire basket made of 6 pieces
Wire Mesh Fiberglass Gasket this new felt lasts 10x longer than standard felt
The Kamado Joe Classic III has the same diameter (Ø 46cm) as the other Classic models and can use the same extensive range of accessories: JoeTisserie, Pizza Stone, Chicken Rack, Rib Rack, Grill Expander and much more!
It comes with 3 ceramic feet on which you can safely place it when installing it in your outdoor kitchen or BBQ table.
Kamado Joe Classic III Stand-Alone
Cooking surface with diameter Ø 46cm
Cooking capacity for 4 to 8 people
Total device weight 103 kg
A Kamado Joe Classic III Stand-Alone comes very well-equipped, this is included:
Kamado Joe Classic III Stand-Alone ceramic BBQ
SlõRoller (hyperbolic heat shield)
Charcoal made of stainless steel
AMP Firebox consisting of 6 parts
Kontrol Tower Top Vent made of cast aluminium
Stainless Steel Latch
Air Lift Hinge
Wire Mesh Fiberglass gasket
Slide-Out Ash Drawer made of stainless steel
Three ceramic feet for stable installation
Ash Tool
Grill Gripper
Built-in dome thermometer
3-Tier Divide & Conquer Flexible Cooking System

Flexible Cooking Rack with 3 levels
Accessory Rack
2x Half Moon Stainless Steel Cooking Grate (Ø 46cm)
2x Half Moon Heat Deflectors
Versatile  
Why is a Kamado Joe such a wonderfully versatile and easy-to-use BBQ that everyone wants one? 
The two basic principles: 
Mass: The large mass and high weight of your Kamado Joe makes it very easy to maintain the same temperature for a long time, even in cold or windy weather.

 

Airtight closure: The dome of your Kamado Joe fits airtight to the base thanks to the gasket. This allows you to determine the exact amount of air that can enter the device. You control the temperature very precisely and limit the air flow in your kamado to a minimum. The result: very low charcoal consumption and maximum moisture retention in your meat and other dishes.

 
This makes a Kamado Joe super convenient to use and versatile! 
Slow cooking & smoker at 100°C (smoking)

 

Fast – grilling at 180°C in only 15 minutes (grilling)

 

High heat steaks searing at 300°C (searing)

 

Pizzas at 380°C, bread, quiche & oven dishes (baking)
Only logged in customers who have purchased this product may leave a review.
Wat mag je verwachten bij ons ?
Persoonlijk advies

Gratis

verzending vanaf

€

95

14 dagen geld-terug-garantie